Why Raise Money Through Crowdfunding
In this article, we examine the method of raising money through crowdfunding and how it can benefit your business.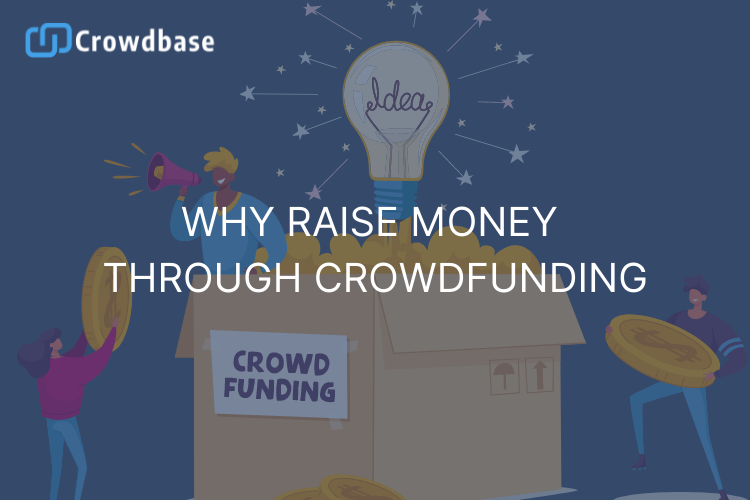 You own a startup and are looking for funding. But how do you decide which option is the best one for you and your business? In this article, we examine the method of raising money through crowdfunding and how it can benefit your business.
As you are probably aware by now, gaining access to capital at the early stages of a startup is hard. Crowdfunding provides business owners with an additional powerful method to raise money without relying on traditional sources, such as banks. However, money is only a part of what crowdfunding can offer.
Benefits of Crowdfunding
Brand and Marketing Exposure 🔊
By choosing to raise through crowdfunding, startups gain access to a wide range of investors, including their most loyal customers, other entrepreneurs, angel investors and influencers. These people can, in turn, become advocates of your business, spreading the word to their social connections, and further promoting your business, increasing your publicity. The exposure gained by a crowdfunding campaign can also help you find potential customers, partners, institutional investors and even employees.
Crowdsourcing of Ideas 📑
Additionally, backers can provide invaluable knowledge, expertise, and networking opportunities. Founders can crowdsource ideas from their investors, receive constructive feedback and help refine their product or service. It is a way for your business to tap into the knowledge pool of the masses, and use their wisdom as a feedback tool to better accommodate your clients' needs. 
Post-campaign Success 🏁
A successful crowdfunding campaign can also help startups raise additional funding after the end of a campaign. Venture capitalists and angel investors are more likely to invest in a company that successfully raised money through crowdfunding.
A successful campaign signals to them that the market has validated your product or service, removing a lot of the uncertainty. It also provides a concrete floor on your valuation, allowing you to secure a higher valuation than if you raised funding with them from the beginning.
Furthermore, a successful crowdfunding campaign demonstrates to future investors that you have already undergone the highly demanding fundraising process. As a result, you are familiar with the necessary procedures and have the material to showcase your business (business plan, pitch deck and financial models). Therefore, their jobs would be much easier than dealing with founders raising for the first time.
Retain control 🔐
One of the major disadvantages of traditional fundraising through venture capital firms or angel investors is that often, the founders lose control of critical decisions. However, raising money through crowdfunding allows founders to retain control of their businesses. Once the campaign is completed, investors rely on you to deliver your promises.
The crowd is surprisingly intelligent, and it uses rational criteria to decide when to back a project. If you are successful, it means that the crowd has entrusted you with their money to deliver, and you should be proud of that. You are the decision-maker, and no one is there to micromanage you. You won't have to hit the strictest of targets set by major shareholders and constantly be under scrutiny, as you would with other fundraising methods.
As long as you are genuine with your investors, they will understand if you are going through a rough patch and still keep faith that you can take the business to the next level.
Alternative to Banks 🏦
Crowdfunding offers an alternative source of funding to traditional bank loans. Banks are often unwilling to lend money to startups or SMEs as they are perceived as too risky for their liking.
Even if somehow you manage to navigate all the complex and slow bureaucratic processes, it's unlikely to get any favourable terms.
Unlike banks, crowdfunding offers a more flexible and fast process through which you can raise new capital for your venture.
Raise with Crowdbase
Crowdbase helps you raise funds from the moment you express your interest until long past your crowdfunding campaign.
We support you in crafting your pitch and marketing campaign, as well as provide advice on your company's strategy and use of funds. Our team has extensive experience in fundraising in a wide range of sectors and can help you navigate any regulatory requirements you might face.
Your risk is mitigated by the fact that you will only have to pay the full fees if your crowdfunding campaign is successful. Another benefit of this fee structure is that your interests are aligned with ours. You can rest assured that we will help in any way we can to maximise the chances of a successful campaign.
After the end of your campaign, we seek to further develop our relationship, advising you on how to communicate with your investors and possibly discussing further fundraising opportunities in the future.
Conclusion
Crowdfunding offers an alternative source of fundraising with benefits beyond simply raising capital, but it's not for everyone.
If you are wondering whether crowdfunding is suitable for you, consider the following questions:
Do you know how much capital you will need to succeed?
Do you have a minimum viable product (MVP)?
Do you have a business plan or pitch deck prepared?
If you feel confident that you can answer each of the questions above, you are already on track for a successful crowdfunding campaign.
If you are interested in raising money through crowdfunding, send us your application through our Raise Capital page, and we will reach out to discuss your prospects.
More from Crowdbase
Discover more from our blog guides and more
Don't miss the next opportunity.
Sign up for our newsletter.