Cyprus Entrepreneurship Ecosystem 2023
The Cyprus Entrepreneurship Ecosystem is steadily growing, supported by organisations, institutions, and initiatives across various sectors.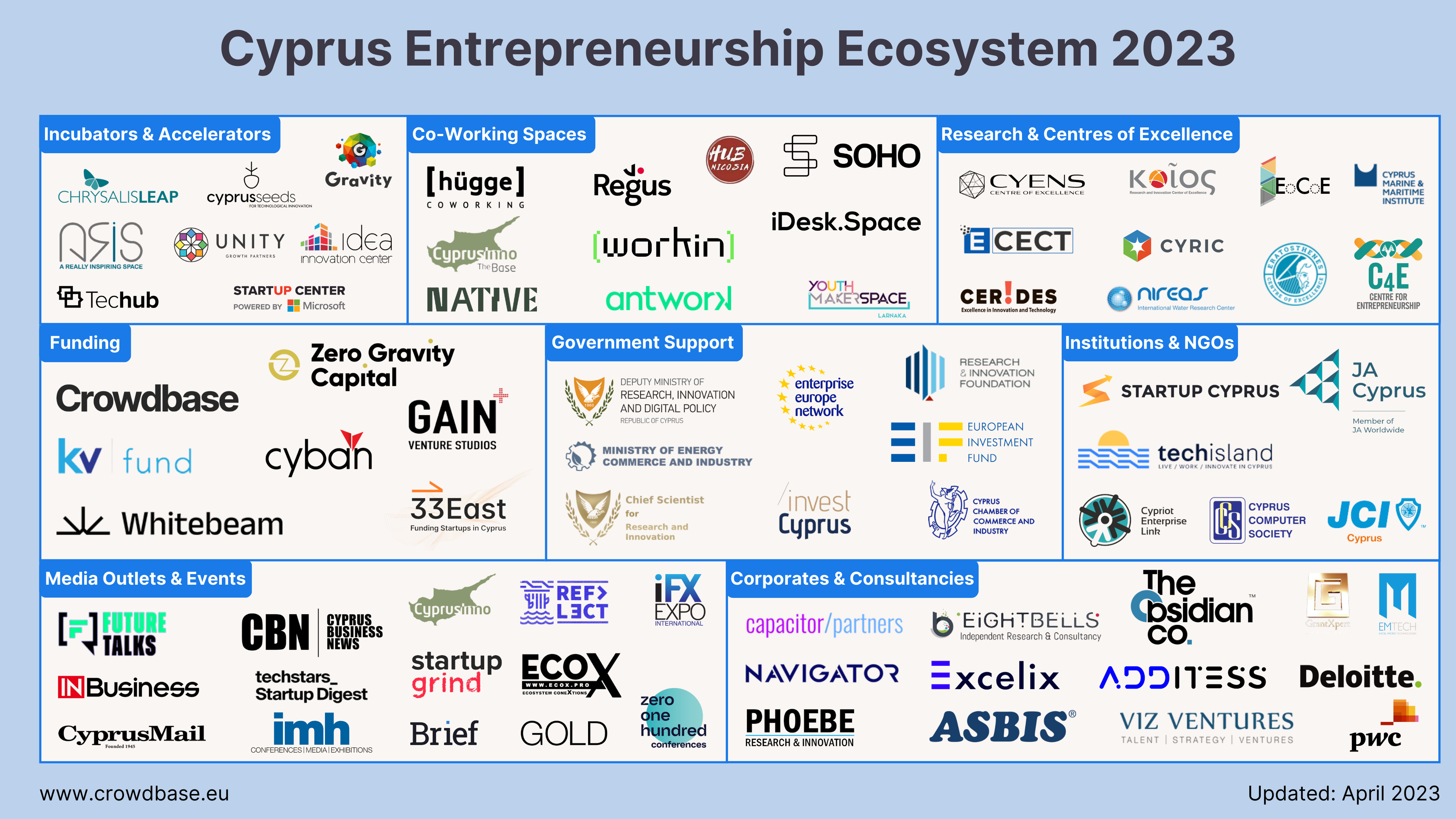 Introduction
The Cyprus Entrepreneurship Ecosystem is steadily growing, with many organizations, institutions, and initiatives supporting its progress. As a key player in this ecosystem, Crowdbase understands the importance of keeping the community informed on current developments. Consequently, we've updated our infographic from last year, highlighting key players across different ecosystem categories. This article serves as a supplement to the infographic, providing further insights.
Over the years, the ecosystem has experienced an impressive transformation, driven by the joint efforts of various stakeholders. The environment for startups and SMEs has grown increasingly supportive and cooperative, enabling entrepreneurs to obtain important resources and mentorship. Cyprus has emerged as an innovation and entrepreneurship hub, featuring exciting ventures across sectors like technology, finance, and real estate. The ongoing growth relies on a strong foundation created by various ecosystem participants, working together to nurture connections, promote cooperation, and foster a culture of innovation.
Incubators & Accelerators
Firstly, incubators and accelerators are crucial components of the Cyprus Entrepreneurship Ecosystem, supporting early-stage ventures and aspiring entrepreneurs. These programs offer startups resources, mentorship, and advice, helping them tackle initial challenges and build a solid foundation for growth.
Incubators typically support new businesses from the idea stage, offering workspace, networking opportunities, and guidance. In contrast, accelerators concentrate on rapidly scaling startups. Accelerators usually follow a time-limited, cohort-based structure and deliver customised training for quick, efficient growth.
By joining incubators and accelerators, early-stage startups can gain expert guidance, industry connections, and a collaborative environment with like-minded entrepreneurs. These programs help startups refine business models, devise go-to-market strategies, and secure funding while fostering innovation and ensuring long-term success.
In Cyprus, the incubator and accelerator scene is steadily growing, with more programs emerging to meet the diverse needs of the startup ecosystem and current programs enhancing their offerings. These initiatives increasingly address industry-specific challenges, like Chrysalis Leap focusing on cleantech ideas and Cyprus Seeds commercialising innovative academic research.
Co-Working Spaces
Additionally, co-working spaces are vital in the Cyprus Entrepreneurship Ecosystem, providing affordable, flexible work environments for startups, freelancers, and established businesses. These shared spaces foster community, networking, collaboration, and idea exchange, allowing ecosystem players to grow together and create synergies.
Entrepreneurs benefit from co-working spaces by accessing professional workspaces without the high costs and long-term commitments of traditional office leases. Co-working spaces' flexibility allows startups to scale easily, offering networking opportunities with other entrepreneurs, mentors, and potential investors.
Moreover, co-working spaces often host events, workshops, and meetups customised for their community, encouraging knowledge-sharing and skill development. These spaces contribute to a vibrant, dynamic entrepreneurship ecosystem by cultivating innovation and promoting economic growth. In recent years, Cyprus has seen rapid growth in co-working spaces, with an increasing number of openings across the country. Examples include Workin in Limassol, Native in Larnaca, and The Base in Nicosia, serving entrepreneurs' and startups' diverse needs. This expansion reflects the growing demand for flexible workspaces and the evolving landscape of the Cypriot entrepreneurial ecosystem.
Research & Centres of Excellence
Furthermore, research institutions and Centres of Excellence contribute significantly to the Cyprus Entrepreneurship Ecosystem. They support new ideas, knowledge generation, and the practical application of technology. Often acting as hubs for innovative research, they provide academics, researchers, and entrepreneurs with the necessary tools and resources.
Startups can access advanced technology, specialised equipment, and expertise through research institutions, which might be otherwise unaffordable or inaccessible. These institutions foster an environment for scientific advancement and technology transfer, enhancing the entrepreneurial ecosystem's growth and competitiveness.
Notably, among many research institutions and Centres of Excellence, the University of Cyprus' Centre for Entrepreneurship (C4E) stands out for its active ecosystem support. By promoting real-world collaborations and robust industry networks, the C4E plays a crucial role in innovation and bridging academia-industry gaps.
Funding
A thriving Cyprus Entrepreneurship Ecosystem needs diverse funding options to support startups and businesses at different development stages. Funding sources like venture capital funds, angel investors, crowdfunding platforms, and grants fuel innovation and help startups scale up.
A recent addition, the Cyprus Equity Fund (CEF), managed by 33East, offers risk financing for mainly pre-seed and seed-stage companies. With a target size of €37.5 million, the CEF demonstrates a commitment to diversifying funding options in Cyprus. To learn more about the CEF, visit this article by Cyprus Mail.
"It is worth mentioning that the Fund is expected to crowd in private investments both at the CEF, as well as by co-investing in prospective companies with other private investors and funds."George Panteli, Permanent Secretary of the Ministry of Finance
In recent years, Cyprus' investment landscape has improved significantly, offering more funding options for startups. Examples include the introduction of crowdfunding in Cyprus via Crowdbase's platform, and the newly established KV Fund aimed at supporting innovative local projects targeting the US market.
However, despite the progress, there's still considerable room for growth in this area as the ecosystem matures. To promote innovation and economic growth, expanding and diversifying funding sources will be vital for the Cypriot entrepreneurial ecosystem's success.
Government Support
A vibrant Cyprus Entrepreneurship Ecosystem depends on a supportive regulatory environment and accessible funding. Cyprus's government understands the importance of promoting innovation and entrepreneurship, launching multiple initiatives to create a favourable environment for businesses.
Measures include funding programs, tax incentives, and simplified regulatory processes that lower entry barriers for entrepreneurs and support existing businesses. In particular, an outstanding initiative by the Cyprus government is the Certificate of Innovative Enterprise. It allows local investors in innovative enterprises to deduct 100% of their investment from their total taxable income. Learn more about this scheme in our comprehensive article here.
While the government is increasingly focusing on entrepreneurship support programs, bureaucratic processes still require further simplification. Grant calls should cater better to applicants' specific needs. By addressing these challenges, the government can reinforce its commitment to supporting innovation and driving economic growth through entrepreneurship.
Institutions & NGOs
Institutions and NGOs contribute to a strong entrepreneurial ecosystem by connecting and supporting various stakeholders. They bridge gaps between entrepreneurs, investors, government bodies, and other ecosystem players, ensuring a cohesive environment for innovation and growth.
By organising networking events, advocating for pro-entrepreneurship policies, and providing resources like market research and industry-specific data, institutions and NGOs help entrepreneurs make informed decisions and navigate business challenges.
In Cyprus, institutions and NGOs play an active role in advancing the ecosystem. Their efforts in organising events, advocating for favorable policies, and providing valuable resources, contribute significantly to the country's entrepreneurial landscape. For instance, a notable organisation is Techisland, with a mission to accelerate the growth of technology and the innovation ecosystem in Cyprus. Another is JCI Cyprus, which contributes by organising networking events and providing skill development opportunities for young professionals and entrepreneurs.
Media Outlets & Events
Media outlets and events are vital for a thriving Cyprus Entrepreneurship Ecosystem. They increase visibility for startups and entrepreneurs, and help create connections and collaborations among stakeholders. A distinguished figure within this space is startup journalist Panis Pieri, with his active role in promoting innovative ventures, helping startups grow and inspiring new entrepreneurs in the process.
By featuring stories about innovative ventures, breakthrough technologies, and entrepreneurial success, media outlets raise awareness about the local startup scene. This attracts interest from investors, customers, and partners, enabling businesses to grow their networks, access new markets, and attract resources.
In addition, media outlets often collaborate with other ecosystem players to organize industry events, conferences, and workshops. These provide a platform for entrepreneurs to showcase their ideas, learn from experts, and connect with like-minded individuals. Such events are invaluable for networking, knowledge sharing, and collaboration, helping entrepreneurs stay updated on industry trends and best practices.
Subsequently, Cyprus has seen increased media coverage and events related to entrepreneurship. This growth has led to a diverse range of events catering to different ecosystem players. Startup Grind organises various events for entrepreneurs, startups, and investors. Reflect Festival, the biggest tech event in Cyprus, attracts thousands of business professionals in Limassol each year.
Corporates & Consultancies
Corporates and consultancies offer valuable resources and expertise to startups and ecosystem players, addressing various challenges they face. For instance, consultancies like Capacitor Partners assist businesses in staying competitive and innovative through digital transformation.
By providing marketing support, they help startups promote their products and services effectively, target the right audience, and generate leads. Some corporates invest in startups, offering capital and mentorship to help them scale up. Consultancies can also guide entrepreneurs in preparing pitch decks, valuations, and navigating complex financial and corporate matters.
As a result, in Cyprus, the corporates and consultancies scene is evolving quickly, with firms like ASBIS investing in smaller companies and offering tailored support to startups. Many recognise local entrepreneurs' potential and organise training programs to help startups develop essential skills and grow their businesses. This involvement shows the commitment of corporates and consultancies to contribute to a thriving entrepreneurial ecosystem in Cyprus.
Conclusion
In conclusion, the Cyprus Entrepreneurship Ecosystem has made significant progress recently, thanks to the combined efforts of various stakeholders. However, there is still much room for improvement and growth, as challenges and opportunities for development remain.
As the ecosystem evolves, it's crucial for all stakeholders to maintain their commitment. They must nurture innovation and encourage collaboration. Stakeholders should explore ways to boost support for entrepreneurial initiatives. By addressing challenges, bridging gaps, and capitalising on growth opportunities, Cyprus can reinforce its position. It can become a leading hub for innovation and entrepreneurship globally.
Ultimately, with a strong foundation and a continued focus on improvement, the ecosystem can contribute more to the local economy. It can enhance economic growth, job creation, and overall competitiveness in Cyprus. By striving for excellence and embracing change, the entrepreneurial community in Cyprus can unlock new possibilities and reach greater heights.
More from Crowdbase
Discover more from our blog guides and more
Don't miss the next opportunity.
Sign up for our newsletter.