Investments through the platform

> €1M

Fees for investors

Zero

Time to register and invest

< 10 mins

Crowdbase is regulated by the Cyprus Securities and Exchange Commission (CySEC), the competent authority for financial regulation in Cyprus.
Easy, transparent, and free
Find opportunities
Explore our vetted investment opportunities in startups, real estate and more.
Evaluate investment
Access in-depth investment information, including the pitch, financial projections, and valuation.
Invest from €100
When you identify an appropriate investment opportunity, invest from €100. No investment fee, no holding fee, and no exit fee.
Reap the rewards
If the business is successful, it can pay back investors through dividends, an IPO, an outright sale, or a management buyout.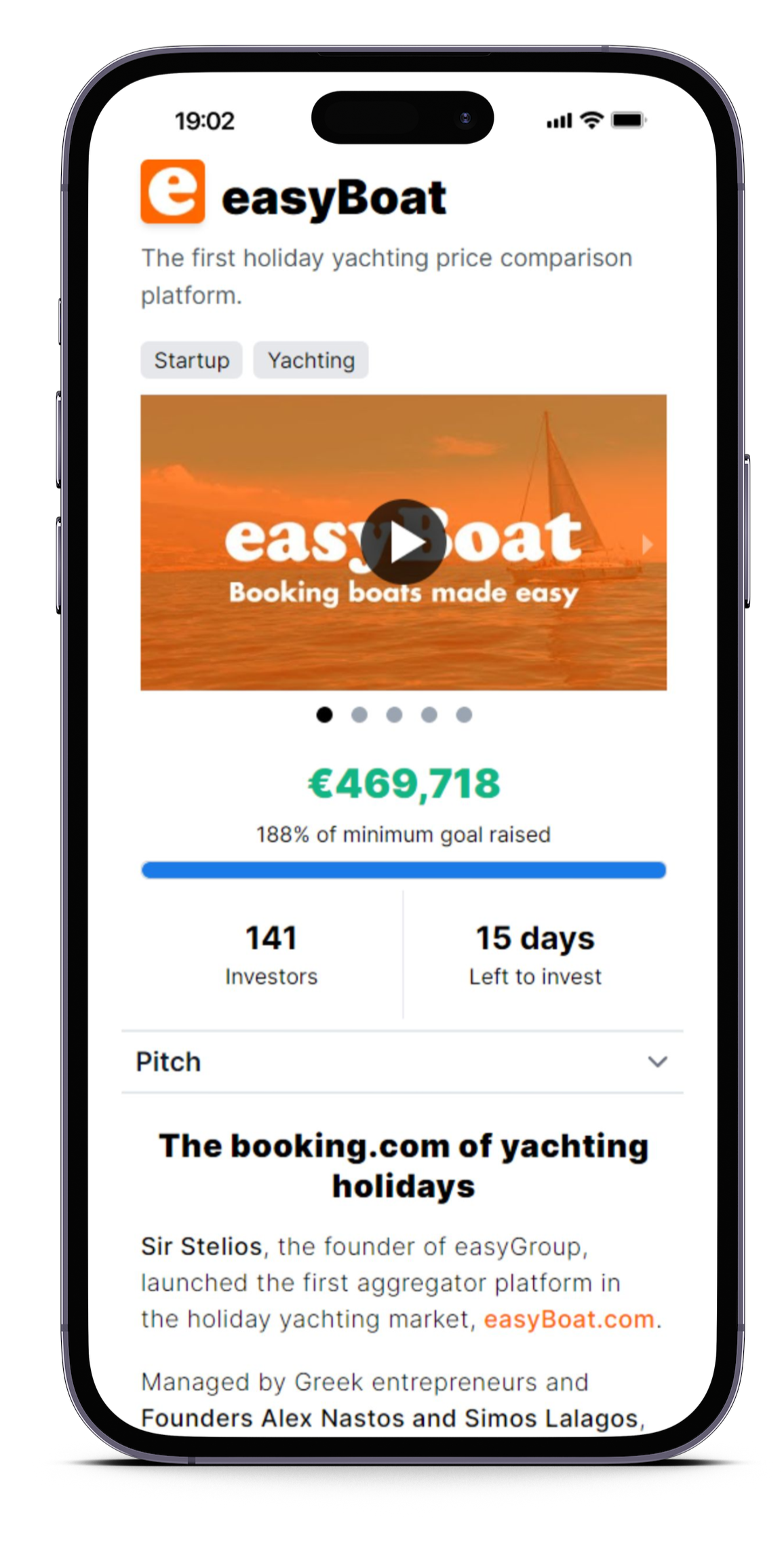 Quality over quantity
We carefully evaluate each application we receive and only accept campaigns meeting our strict criteria.
Initial screening
Our initial screening process focuses on key investment criteria, including the founders and their track record, the product, the market, the vision, and financial projections.
Due diligence
We conduct thorough due diligence into the company's financials, management team, and market research to verify the information presented to our investors.
Valuation & terms
Our team's expertise in financial analysis allows us to contest each company's valuation in order to secure favourable investment terms for our investors.
Final decision
Once all information is collected and verified, our Investment Committee decides whether or not to approve the company to raise capital on our platform.
Why choose Crowdbase
No Fees
All investments in crowdfunding campaigns are free of charge for investors. No investment fee, no holding fee, and no exit fee.
Access
Crowdbase enables individuals and companies to invest in otherwise inaccessible investment opportunities.
Campaign Selection
All crowdfunding companies undergo a comprehensive due diligence process to guarantee the validity of information.
Transparent & Neutral
Crowdbase is a neutral intermediary which protects the interests of both investors and crowdfunding companies equally.
Frequently Asked Questions
Don't miss the next opportunity.
Sign up for our newsletter.